Joseph Merrick – who became known as 'The Elephant Man', was not born in the East End, but his involvement with the London Hospital, Whitechapel and with Frederick Treves, one of its surgeons, made him inextricably linked to this part of London.
Joseph Carey Merrick was born in Leicester, Leicestershire, England in 1862 and lived until 1890. He began to develop severe abnormalities during the first month or two of his life, and these manifested themselves as thick, lumpy skin on his body, together with a huge bony lump on his forehead. His lips, feet and one of his arms became grossly enlarged, and following a fall during his childhood, Joseph developed a severe limp.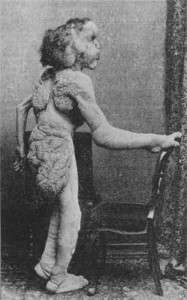 When his mother died in 1873, and following rejection by his father who remarried two years later, Joseph left home. In late 1879, the 17 year old Joseph Merrick entered the Leicester Union Workhouse.
At the age of 21, Merrick himself contacted a showman called Sam Torr and suggested that Torr exhibit him as a freak. Torr, with a number of associates named Merrick 'The Elephant Man', and began touring the East Midlands with their sad cargo in tow.
Merrick then travelled to London where he met another showman called Tom Norman who exhibited him in a shop in Whitechapel Road, directly opposite the London Hospital. Incidentally, the shop stands to this day but now sells Indian saris…
Treves discovered Merrick on one of his sojourns outside the hospital and invited him to be examined and photographed. Merrick agreed, and ended up staying in an apartment in the hospital for the remainder of his life.
Treves would visit him daily and the pair developed quite a close friendship. Merrick also used to receive visits from members of London society, which included Alexandra, Princess of Wales.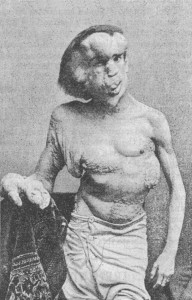 Despite his atrocious deformities, Joseph Merrick was an intelligent and sensitive human being, and some of that sensitivity shines through in the intricate model of a cathedral he constructed whilst in his apartment, and which remains in the London Hospital Museum to this day.
Merrick died on 11 April 1890, aged 27. The official recorded cause of death was asphyxia, although Treves, who dissected the body, discovered that Merrick had died of a dislocated neck. He said it was his belief that Merrick—who had to sleep sitting up, supported by cushions, because of the weight of his head—had been attempting to sleep lying down, to "be like other people".