Just off the Whitechapel Road in the East End lies a small, fairly insignificant looking doorway. It may not look as imposing as other London tourist attractions, but venture beyond and you will find you have stumbled onto Britain's oldest manufacturing company. Whitechapel Bell Foundry was established during the reign of the Virgin Queen – Queen Elizabeth I in 1570, and has been in continuous business since.
A long procession of Royal visitors have entered the Whitechapel Bell Foundry – unsurprising really, given its 400 years of manufacture and casting – in fact the foundry's history spans that of twenty seven crowned heads of England, and when the casting took place for two bells for Westminster Abbey, both King George V and Queen Mary visited the buildings.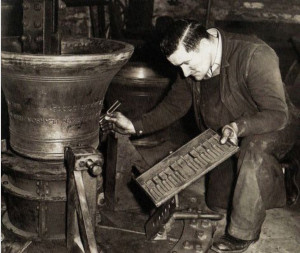 The foundry buildings themselves date from four years after the Great Fire of London and it is thought that the original property was burned to the ground in the ensuing firestorm. Some of the current workshops were part of a building that was originally a coaching Inn known as the Artichoke.
One of the most famous bells in the world, Big Ben, which hangs in what is now known as the Elizabeth Tower at the Houses of Parliament, was the biggest bell ever to be cast at Whitechapel. The gauge that was used to make the mould for the bell still hangs on the wall of the foundry moulding shop to this day, and can be seen by visitors on one of the twice monthly tours that the foundry operates.