Due to the extremes of poverty in the East End, an inexpensive form of a hot nutritional meal was welcome, and supplies of eels was plentiful, right through until the end of the 1800's – indeed, eels were one of the few types of fish that could survive in the Thames, given the high levels of pollution at the time. Billingsgate Fish Market, a short distance along the Thames from the East End was the usual stopping point for the predominantly Dutch fishing vessels that would moor and land their catch.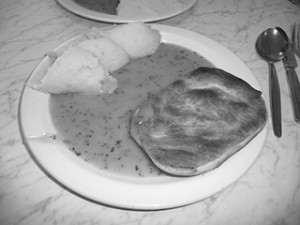 The chopped eels were baked in a pie, and to make the meal larger, the inclusion of a cheap vegetable, in this case mashed potato, and a sauce (usually made from the water that had been used to cook the eels, and given some taste and colour by the addition of some chopped parsley) would form the basis of a nourishing and inexpensive meal.
Following the end of the Second World War, the supplies of eels rapidly declined – a trend that has continued to the present day (in fact a recent 2010 survey of eel traps along the Thames showed that only 50 eels were captured in the whole twelve months). As beef became more widely available with a growing supply from imports around the world, the nature of the pie changed, and it is likely that asking for Pie & Mash now will result in being served minced beef as a filling.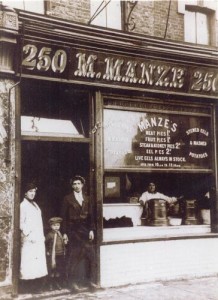 The longest continuously open pie and mash shop in London is M. Manze, which opened in 1902 on Tower Bridge Road. As the family grew, so did the chain of pie and mash shops, but these have now shrunk back to just three shops including the original in Tower Bridge Road, together with ones in Peckham and Sutton.
Traditionally, pie and mash shops nearly all have white tile walls with mirrors (often heavily engraved), and marble floors, tables and work tops, all of which are easy to clean. They give the shops – (and you will find that they are hardly ever called restaurants) – a late Victorian appearance