Despite initial appearances, Dennis Severs' House is not a museum at all, but a private house that is open to members of the general public and acts as a sort of 'time capsule' to The East End of London's past.
Dennis Severs, an American who sadly passed away in 1999 bought this run-down, and un-modernized Eighteenth century house in 1979. Rather than follow his contemporaries, he decided not to restore the building, but instead to "bring it to life". Other artists were moving into the Spitalfields area at the time, and given its background as a slum area, was quite bohemian. For example, artists Gilbert & George live nearby.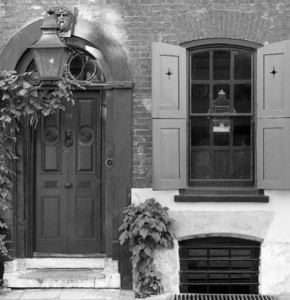 Severs decided to live here, at 18 Folgate Street, E1, without electricity and other home comforts we now take for granted. Folgate Street is an atmospheric narrow road with tall townhouses and period lampposts. In fact, there's a gas lamp flickering over the entrance to the house and should you fancy a drink, The Water Poet pub is opposite. Red wooden shutters cover the windows on the ground floor of the building and silhouette cut-outs appear in the first floor windows
Severs set about the house, creating a Huguenot silk weaver's home for a 'Mr Isaac Jervis, his family, and their descendants'.
The Jervis family are imaginary – a fiction of Severs – but the attention to detail in the building is incredible. However, Severs was not a historian and never wanted anyone to think of his home as a museum. It was his interpretation of how Eighteenth century domestic life would have been, and unlike state funded museums around the country, was put together on a very limited budget.
Unlike so many museums, a visit to Denis Severs' House gives us a glimpse into the lives of the fictional inhabitants he created. Before the public are admitted (on strictly limited days, incidentally) fresh food, drink and flowers are added so although you never see them there are plenty of signs that the Jervis family are close by. It's all lit by candlelight and there's a real fire burning in the kitchen.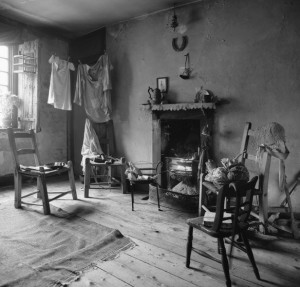 There are ten rooms to explore and each looks like a real home, with full domestic trappings – It's dark inside – remember it is only lit by candlelight – but there are plenty of hints around to help you find out more about the family. As you move around the home it seems more real as it is not 'perfect', and you get to see the rooms a visitor would not normally enter.
By the time you reach the top floor, the scene that opens up before you is as if time has moved on – paint is peeling off the walls, everything is dirty and there are holes in the ceiling. It gives you a real sense of the poverty that would have befallen the 'family' in later life.
Try out this hidden gem (the nearest tube station is Liverpool Street) – it's an unusual London Tourist Attraction – one that is far away from the so called tourist trail.