Ripper Street was a BBC Television series set in Leman Street Police Station, Whitechapel in London's East End in 1889. The initial story takes place just six months after the infamous Jack the Ripper murders.
The principal characters in the series are played by Matthew Macfadyen, Jerome Flynn, and Adam Rothenberg. The very first episode was broadcast on 30 December 2012 and it began a run in the United States on BBC America a couple of weeks later. A second series of Ripper Street returned for an eight-episode run which started on 28 October 2013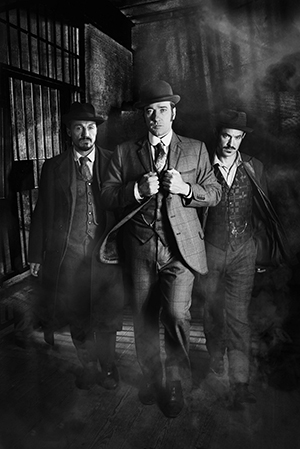 The first series began in April 1889, a few months after the last Jack the Ripper killing in October 1888, and the newly formed H Division of the Metropolitan Police is operating out of Leman Street. Tasked with policing over a mile and a quarter of East London, it has to cope in a district with a population of 68,000 destitute and homeless individuals. The policemen of H Division had already spent much time hunting Jack the Ripper, but had failed to find him. When more women begin to turn up on the streets around Whitechapel, in a manner reminiscent of the Ripper killings, the police start to wonder if the killer of the previous autumn has returned.
The Leman Street police station and "The Brown Bear" public house that are featured in the series are still there in Leman Street, and the Jews Orphan Asylum which forms much of the backdrop to series one still exists. The Asylum was renamed and relocated first to Norwood in South London, and then to Stanmore in North London.