Many people associate the East End with Pearly Kings & Queens.  The Pearlies developed from the 'Coster Kings & Queens', who originated in the 18th century. The 'Costers' in turn began life as 'Costermongers', London's street traders, who have been around for over a 1000 years
The Costermongers have been an important feature of London life since the 11th century and for most of that time they were unlicensed and itinerant. Like some market traders of today, they would shout out to attract customers to view their wares – although, in doing so, they would often upset some of London's better off society. The costermongers began to adopt an innovative method of attracting attention to themselves. Many would have a row of pearl buttons, each the size of a penny, sewn to their outside trouser seams from the ankle to the knee. Other went further with more pearl buttons on the flaps of their waistcoat and coat pockets and the front of their caps.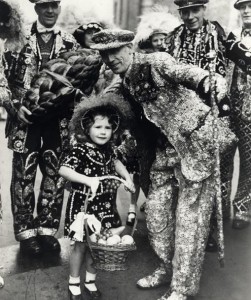 At that time, Victorian London was riddled with social problem. The poor or those too sick to work enjoyed no healthcare provision, and the welfare state was a long way off. For many, the Workhouse was the only way of food or lodgings, but it was considered the last resort among the poor as treatment was harsh and conditions almost as squalid as life on the street.
It was into this environment that Henry Croft enters the story….
Henry Croft was born in 1862 and raised in a Victorian workhouse orphanage in Somers Town Market, Chalton Street, King's Cross.
Henry decided to go one better and decided to have a suit totally covered in pearl buttons. He then used to wear this to collect pennies and halfpennies to help out the children in the orphanage where he had been raised. He soon became a great attraction, and he was approached by many charitable organizations to help collect money for the poor, or disabled.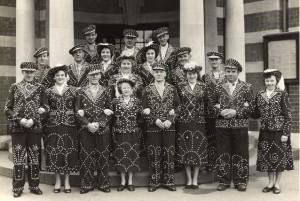 The costermongers had always had a tradition of organizing a whip-round for any of their number who had fallen on hard times, and Henry now asked them to help him with his charity work. They adopted the same style of costume, and as a result, the pearly monarchy and its tradition of raising money for charity began.
When Henry died in 1930, 400 pearly kings and queens attended his funeral in their costumes. There are fewer than that now, but the Original Pearly Kings and Queens Association still looks after Henry's grave – a representation of a top hatted figure of Henry Croft that was originally situated  in the St Pancras & Islington Cemetery – until repeated vandalism caused its replacement…