Walk a short distance from Spitalfields Market on a Sunday between 9am and 3pm, and you will stumble upon another world famous East End Market – and one of London's oldest – Petticoat Lane.  Originally called Peticote Lane, the area around Petticoat Lane was decimated by the Great Plague of 1665, when London lost a fifth of its entire population.
The existing market has been operating in its current location from the mid 1700's and was named after the Petticoats and Lace that were sold in the area by the Huguenot weavers who had populated Spitalfields after fleeing their native France. Another interpretation of the name is that unscrupulous traders would "steal your petticoat from you at one end of the market and sell it back to you at the other end…"!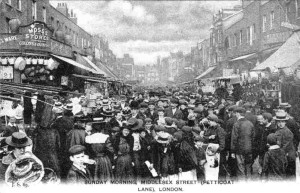 Petticoat Lane Market was not formally recognised as a trading area until an Act of Parliament was passed in 1936 but its relationship for being populated by ne'er do wells and fraudsters made it unpopular with the authorities and a popular way of disrupting the market was for emergency vehicles such as police cars and fire engines to be driven from one end of Petticoat Lane to the other with sirens blaring and bells ringing!
Nowadays, the market has a more salubrious reputation, selling items such as leather jackets at the Aldgate East end, whilst the rest of the market is largely given over to bargain clothing. A large selection of fashion items are always on sale with many end of season lines being made available at knock down prices at almost a thousand stalls.
Other items such as bric-a-brac, electrical good and shoes are also readily available, and whilst many visit the market for the items sold on the stalls, it shouldn't be forgotten that the lane itself is lined with shops selling a huge range of highly coloured African and Asian fabrics.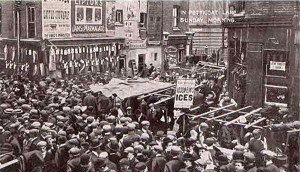 So, where exactly is 'Petticoat Lane'? The sign at the top of the article is a bit of a misnomer as due to the prudishness of the Victorians, Petticoat Lane was renamed Middlesex Street in 1846 – the thought of a lane being named after ladies undergarments was deemed far too racy!