Whitechapel, the TV series (a Carnival Films production) was set in 2008 and is based around a group of detectives in London's Whitechapel district who find themselves dealing with murders which tend to replicate historical crimes.
The initial series was originally broadcast in the UK on 2 February 2009 and depicted the search for a modern copycat killer who appears to have started to replicate the activities of Jack the Ripper. The ensuing series of bloody and seemingly impossible murders are investigated by the shows three main characters: DI Joseph Chandler, a fast-tracked, but flawed OCD Detective Inspector who has been assigned this as his first big murder case; Detective Sergeant Ray Miles, a hard bitten professional copper nearing his retirement, and Edward Buchan, an eccentric and brilliant Jack the Ripper tour guide, author and self styled Ripperologist.
By series two, the action had switched to some other well-known East End villains, The Kray Twins. A series of crimes mirroring those committed by the Krays, leads the Whitechapel team to believe that Ronnie and Reggie Kray have somehow been resurrected and are once again wreaking havoc in the Whitechapel area. This second series was first broadcast on 11 October 2010.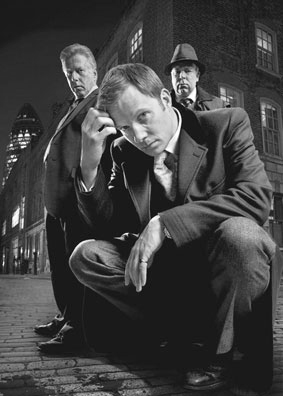 A third series was commissioned by ITV in March 2011, which was extended to six episodes as three two-part stories, and dealt with murders in present day Whitechapel that seemed to be paralleling those of Victorian and Edwardian London.
The fourth and ultimately final series was commissioned by the ITV on 24 September 2012. Once again, Whitechapel ran for six episodes, with the first episode being broadcast on 4 September 2013. This time, the team are met with a number of supernatural occurrences that seem to centre round the Whitechapel CID.
On 16 November 2013, Rupert Penry-Jones who played DI Chandler in the series confirmed that ITV had decided not to re-commission the show and had cancelled it.