Just over one hundred years ago, deep in the East End, a pitched gun battle took place in Sidney Street, a thoroughfare just off the Whitechapel Road. The Siege of Sidney Street, which was often called the "Battle of Stepney", was a notorious gunfight that broke out on 3 January 1911.
It is believed that the protagonists had been responsible for the Houndsditch Murders where, on 16 December 1910, a gang attempted to break into the rear of a jeweller's shop at 119 Houndsditch.
An adjacent shopkeeper heard the gang hammering to get through the wall, informed the City of London Police (in whose area the shop was), and nine unarmed officers — three sergeants and six constables (two in plain clothes) arrived on the scene. Two officers were hit, and one, Bentley, collapsed across the doorstep. Another officer, Bryant, managed to stagger outside. In the street, Constable Woodhams ran to help Bentley, but was himself wounded by one of the gang firing from the cover of the house, as was Sergeant Tucker, who died almost instantly. The gang then made their escape via the cul-de-sac at the rear of the building.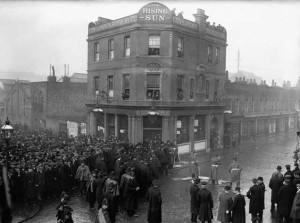 A few weeks later, on 2 January 1911, an informant told police that two or three members of the gang – possibly including the gang's leader, Peter Piatkow also known as 'Peter the Painter' – were hiding at 100 Sidney Street, Stepney. Concerned that their suspects were about to flee, 200 police officers cordoned off the area and the siege began.
At dawn, on the 3rd January, the battle commenced. Although the gang were heavily outnumbered, they possessed superior weapons and a great deal of ammunition. Word was sent to the Tower of London asking for backup, and news of the siege reached the then Home Secretary, Winston Churchill, who arrived on the spot to observe the incident at first hand.
Churchill gave authorisation for the calling in of a detachment of Scots Guards to assist the police. Six hours into the battle, a cannon that Churchill had authorised turned up at Sidney Street, when it was noticed that a fire was beginning to consume the building. The fire brigade arrived promptly, but Churchill refused to give them any access to the building.
The police stood waiting, with their guns at the ready, expecting at any moment that the men inside would attempt their escape. However, the door to the building remained closed. Instead, the remains of two members of the gang, Fritz Svaars and William Sokolow (both were also known by numerous aliases), were later discovered inside the building. No sign of Peter the Painter was found. Besides the three policemen, a London fire-fighter also died of his injuries.